Chrysanthemum: Rare Teas & Flowers
Posted by KEN LO on
Pretty in purple & pink Lusianthus Acacia display specially priced from $48. And up. Great for any occasion!
Posted by KEN LO on
Chocolate Truffles or Organic Chocolate Bark handmade in small batches by our Chinese Tea Master, Ken Lo, using no refined sugars or processed ingredients, only: Organic Roasted Ground Cacao, Jaggery Cane, Raw Hudson Valley Honey, Pure Cream and Butter. Low carb, high protein, antioxidant rich guilt free treats!  Varieties inspired by the Teas and Tastes of Asian and World Cuisine.
Posted by KEN LO on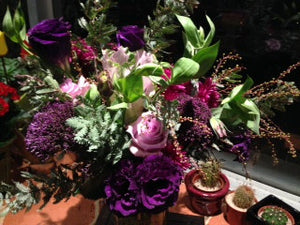 We are pleased to welcome new & returning customers, friends and guests to our website.     We are Angel & Ken Lo, a husband and wife design team. Angel is the Floral designer and the proprietor of the store. You will always see her afternoons and evenings at the store. I, Ken Lo, are her husband, I work more behind the scenes, providing artwork, tea ceremony sessions and stocking the whole leaf Hgih Skill Teas and Tea Ware for the store. I am the Grandmaster of Wu Mei Kung Fu. Please visit my website: (www.wumei.com). I am a Feng...