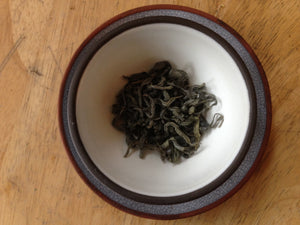 Silver Fish Hook Eyebrow Organic Green Tea
The name of this tea comes from the fact that the tea leaves resemble the downtuned inner side of the eyebrows of a serious thinker.
Hand Picked in the Chinese Gung Fu method, this fragrant Green Tea is heated gently to stop the oxidation that turns tea leaves brown.  This results in a fresh, dry infusion that is never bitter and naturally sweet and floral. While not complex enough for the Tea Ceremony, it is delicious and healthful as an everyday tea. High in antioxidants; it naturally lowers blood pressure and cholesterol. Packed in 2013 in 50 Gram foil bags.